Learn the Basics of Sake and How to choose! Sake Tasting and Food Pairing Experience in Fushimi, Kyoto
Recommended for People Like This!
✔️ Love sake and want to learn more about it.
✔️ Want to be able to choose the sake that suits your taste.
✔️ Want to learn more about the types of sake and how it is produced.
✔️ Wish to know what kind of food and snacks go well with each type of Sake and try various kinds of sake.
✔️ Want to try various types of sake while enjoying learning about Kyoto Fushimi's sake.
✔️ Want to find out what kind of sake you prefer.
The fact that Fushimi in Kyoto was once called "Fushimizu" (mizu means water in Japanese) indicates that this place has been blessed with fine and abundant water since ancient times.
The sake industry flourished in search of the abundance of water, and even today, more than 20 breweries are still engaged in sake production.
Why not join us for a sake experience in Kyoto Fushimi, where one of the most famous sake spots in Japan?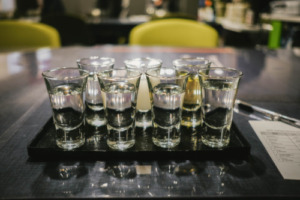 What You Will Experience
Sake Tasting with an Expert
Many people may say, "There are so many kinds of sake that it is difficult to know what to order. In fact, there is a lot of information on sake bottles that can help you choose the right one. At the beginning of the experience, you will learn the basics of sake, such as the rice used to make the sake, the ratio of rice polished to that used to produce the sake, and the categories of sake.
Next, you will taste a variety of sake made in Kyoto, including daiginjo, junmai, raw sake, koshu, and other types of sake. The guide will carefully explain each type of sake, and visitors will enjoy comparing the different types of sake while learning about the differences between them.
Food Pairing
In the food pairing experience, you will enjoy the changes in the taste of sake that come from pairing it with food, and find your own sake preference. By trying combinations that bring out the best of both sake and food, you will learn more about the aroma and taste of each sake.
Even sake beginners can learn about their favorite types and brands by participating in this sake tasting experience. Through the hands-on experience, you get to know deeply the differences in taste and aroma, and discover new ways to enjoy sake.
(It will leads to Kyoto Insider Sake Experience)
Kyoto Insider Sake Experience and AMAZAKE HOUSE are operated and hosted by Add Stories Co.